Quality Lenses make a difference!
At Optica Westmount, we only offer the highest quality of lenses from world leading suppliers.

David Azerrad and his professional staff at Optica Westmount would be pleased to discuss with you the various features and charteristics of lenses in order to best meet your vision requirements.
Some of the available lenses are:
High Index Lenses (thin & light)
Multifocal Lenses (bifocal & trifocal)
Progressive Lenses

Transitions® Lenses (clear inside & dark outside)
Polycarbonate Lenses (strong & light)
Polarized Lenses (reduce glare and UV protection)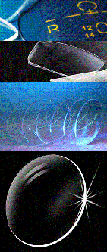 Lens Characteristics to Consider:
Thin, Lightweight Lenses
Polycarbonate Lenses
Progressive Lenses
Computer Lenses
Sports Lenses
Safety Lenses
Transition Lenses
Special Tints
Anti-Reflective Coatings
Anti-Scratch Coatings
Polarized Lenses
Ultra-Violet Protection

Optica Westmount 1 Westmount Square, C470, Westmount, QC
514.931.5777