Cutting Edge Lab and Service

Optica Westmount`s in-house optical laboratory has the latest in equipment to fabricate lenses. Our lab is able to custom adjust and fit your glasses for extended comfort and vision. We are also pleased to be able to help maintain and repair frames should they become damaged.

Optica Westmount also offers priority and emergency lab services to meet expedited and urgent requirements for new lenses as well as for most repairs.
David Azerrad and his staff are pleased to provide complimentary alignment, adjustment, and cleaning of your eye glasses and sunglasses, as often as necessary, for as long as you own them.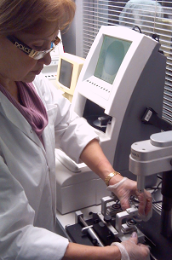 Optica Westmount 1 Westmount Square, C470, Westmount, QC
514.931.5777